Hawaii: discovering the black sand beach of Maui

Published:2021-11-23 12:05:59
By: Nohea
Have you ever seen a black sand beach? The island of Hawaii, due to constant volcanic activity, stands out for the presence of several beaches of this type, including the famous Maui's beach. Also nicknamed Honokalani, it is located at Waianapanapa State Park, a few miles from the city of Hana.
The park, which consists of 122 tropical acres, is a tourist destination of particular interest, due to the presence of some sea caves and the various Hawaiian legends existing on this place. How to access it? From March 1, reservations are required to access this magnificent park. Visitors can book their ticket up to a maximum of two weeks in advance.
What is black sand beach made of?
The black color of the sand is due to the cooling of a lava flow, which hardened and fragmented into small pieces, due to the incessant movement of the ocean waves. For this reason you will see some rounded and smooth pebbles that in ancient Hawaii were collected by the population to make the flooring of their homes.
Black sand beaches can also be found on other volcanic islands, such as the Canary Islands or Iceland, and the most common materials you will find are basalt, andesite and volcanic glass, all composed of iron.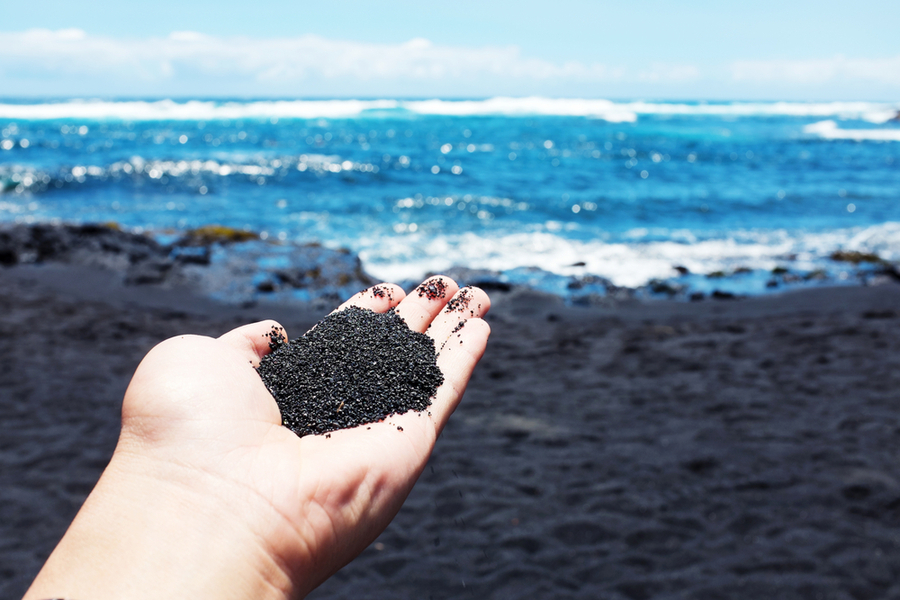 Despite the particularity and the wonder of this beach, swimming is not recommended, as it is extremely dangerous. However, it remains the ideal place to sunbathe, dip your feet in the refreshing water, and take some magnificent photos!