Pink Beach Komodo: endless shades of pink

Published:2021-11-16 22:00:00
By: Nohea
A beach with endless shades of pink...dream or reality?
This is Pink Beach, located on the beautiful Indonesian island of Komodo. It has become particularly famous for the unusual color of its sand, due to a natural blend of crushed coral and white sand. 
How to get to Pink Beach?
Since Pink Beach is located on an island, it can only be reached by sea, departing from Labuan Bako. From there it is possible to get to the beach by boat through a journey that takes about 3 hours. 
Another way to visit the beach is to opt for a fun one-day organized tour, through which you can admire the beauties of the Komodo National Park, including the island of Padar and the wonderful Pink Beach.
When to visit Pink Beach?
The best time to visit the beach and the island of Komodo is in the period between June and August, which coincides with the Italian summer season. Although there is a tropical climate on the island that always makes the area very hot, the period from December to March in any case is not recommended, due to the excessively high temperatures.
Pink Beach is now including in the ranking of the seven most beautiful beaches in the world. The contrast between the pink sand, the clear turquoise water and the wonderful green hills, will surely amaze you. It is undoubtedly a unique destination, one of the most appreciated Indonesian beach by all snorkelers and nature lovers.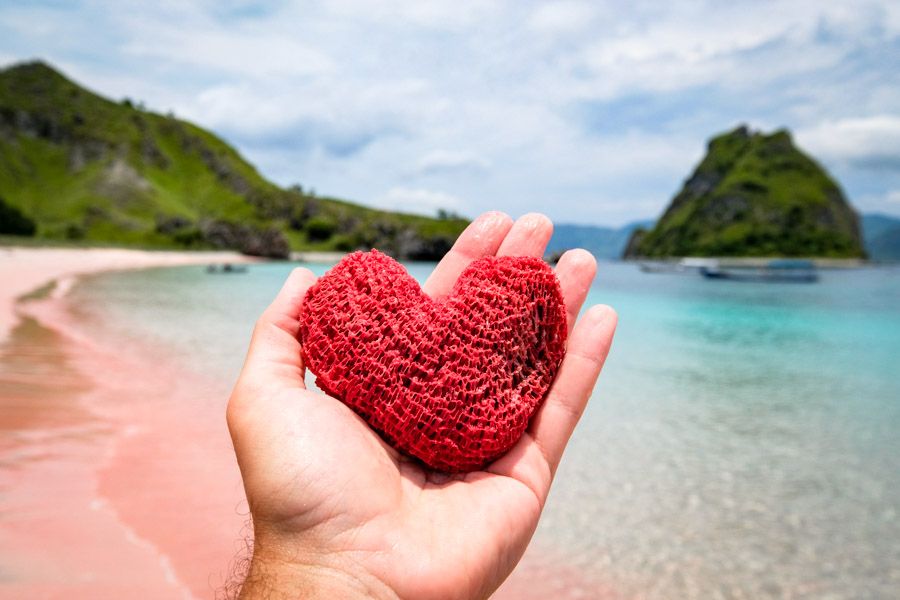 Useful tips and infos: 
There are very few shaded areas on the beach, that's why it is strongly recommended to protect yourself from the sun with a high quality sunscreen
This is not an equipped beach, so don't expect umbrellas, sunbeds or kiosks
If you love this beach do not miss the nearby Tangsi Beach, in the Lombok area
Bring a mask and snorkel with you, to enjoy the best snorkeling of your life!